Nha San Collective - Workshop With Curator Trần Lương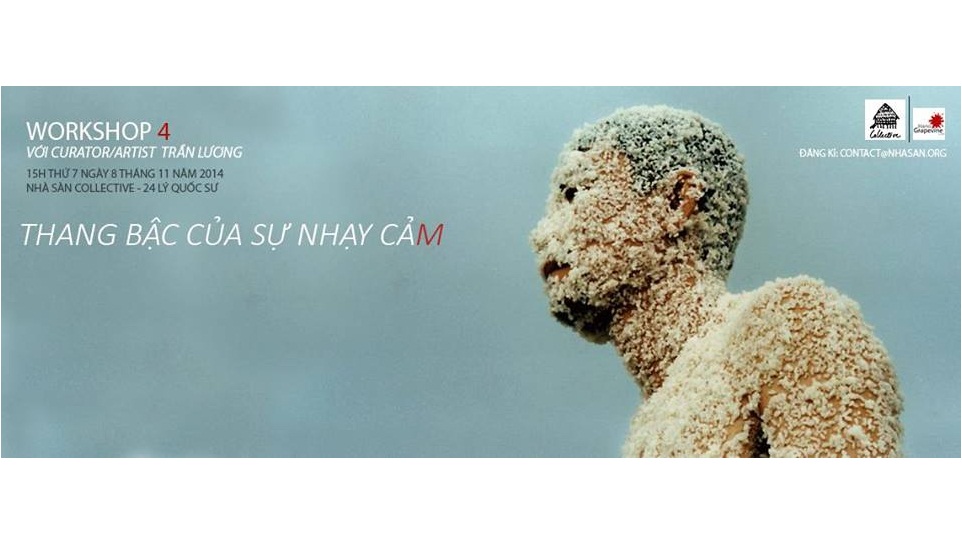 About
"​The degrees of sensitivity" is a series of workshops produced by the artist/curator Tran Luong and Nha San Collective. 
Each workshop requires enlarging the endless ability of sense, which is higher and higher through time.
"The sense of the first movement", which moves simply in a long time, fades out the reasoning and awakens the instinct. It is in this short dialogue between consciousness and instinct that helps us recognize another part inside our mind.
In "the sense of the second movement" process, close your eyes and you will be guided by a partner via their thin strings. These strings are weak connections and easy to be disjointed. At that time, because the guide is merely an excuse, all depends on our sensitivity.
In the fourth workshop, there are three main types of practice, in which:
a, It is a continuously interactive movement between two individuals
b, It analyzes "the degrees of sensitivity" in language
c, It analyzes hearing and sound, alternated with analyzing heat and light

*About artist Tran Luong: 

Tran Luong has long been a leader and one of first curators in the Vietnamese artistic community. Being co-founder of Nha San Studio, Hanoi and a member of the famous Gang of Five, Tran focuses much of his time and energy on helping young artists tease out their ideas and eventually bring those ideas to fruition and exhibitions.

Tran Luong has been curator for many exhibitons including LIMDIM in The Stenersen Museum, Oslo Norway, RIVER SCAPE, the exhibitions in Goethe Institute placed in ASEAN countries such as Vietnam, Cambodia, Thailand, Philippines, Indonesia… and Singapore Biennale 2013, ...