Nha San Collective - Talk with Phạm Phú Thanh Hằng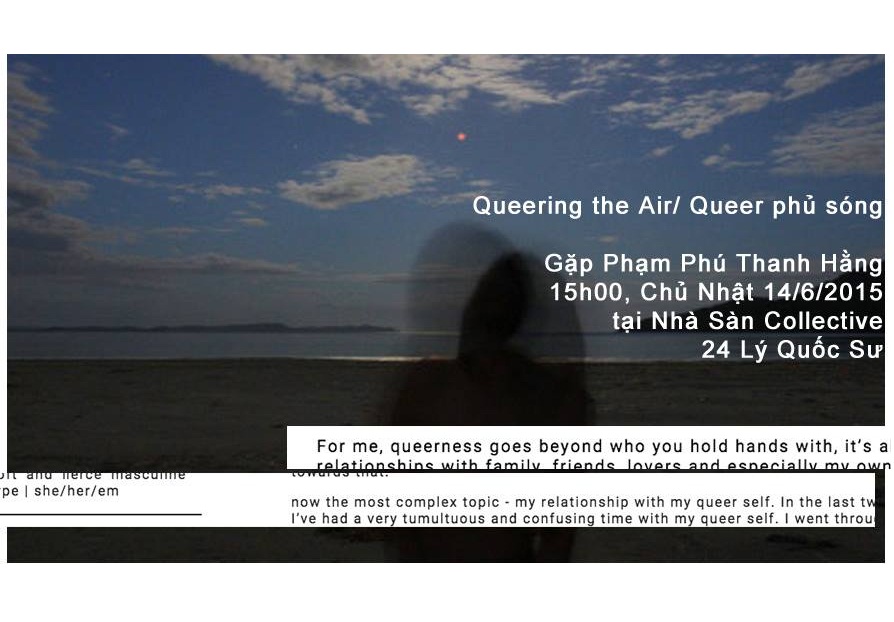 About
Queer Forever! and Nhà Sàn Collective is pleased to invite you to meet Phạm Phú Thanh Hằng, a queer, genderfluid, second-generation Vietnamese diaspora descendant living in Melbourne, Australia.


Talks in Vietnamese and English.


At 15h00, Sunday, 14/6/2015
Nhà Sàn Collective, 24 Lý Quốc Sư, Hà nội


Phạm Phú Thanh Hằng is a radio presenter for Queering the Air on the 3CR Community Radio and was the Vietnamese producer for We We Weren't Born Yesterday: a radio series exploring queer heritage of people from Vietnamese, Chinese, Arabic and Hindi speaking backgrounds. She has written for Peril Magazine and has a love for zine-making. In 2014, she produced Minh: a zine about queer vietnamese embodiment, and in February 2015 she produced and edited Spectra : a 83 page zine containing stories, poems and illustrations by people of colour's experiences with mental health. Her work focuses on mental health, community, Vietnamese diaspora and queerness.


blog:
http://thanh-hang.tumblr.com/


queering the air's fb:
https://www.facebook.com/pages/Queering-the-Air/15...


and websites:
https://www.cbaa.org.au/article/we-werent-born-yes...
http://www.3cr.org.au/queeringtheair


***
We'd like to give special thanks to Nhung Wash and Nối Projects for connecting us with each other, that has lead to this talk and presentation.


Photo by Lee Hannah, previously published on Thanh Hằng's blog.