Nha San Collective - SWFP3 - Knowledge Exchange - Yang Jing & Tuan Mami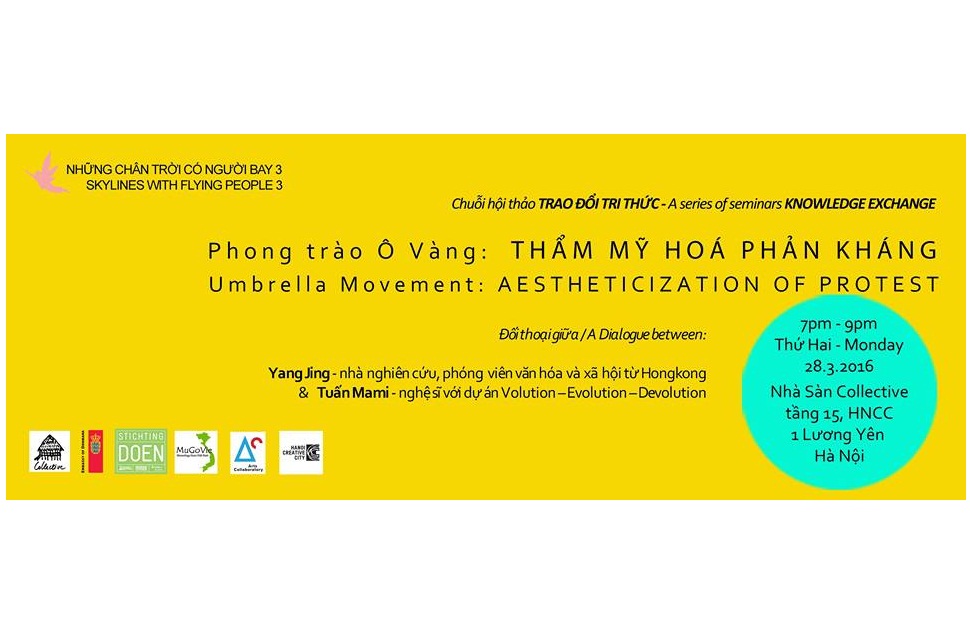 About
KNOWLEDGE EXCHANGE
A series of seminars within Skylines with flying people 3

Yang Jing – "Umbrella movement – Aestheticization of Protest"
Tuan Mami – "Volution-Evolution-Devolution"


Monday, 28.03.2016, 19h00 - 21h00
Nha San Collective, 15thfloor, Hanoi Creative City, 1 Luong Yen, Hanoi



Skylines with flying people 3 this time expands the artistic territory to social science fields. The aim of Knowledge exchange seminars is to increase awareness of a contemporary Vietnam, at the same time, promote dialogue and collaboration amongst different fields and communities, so as to generate new knowledge as well as diverse and creative initiatives.


Each seminar follows subject matters that are relevant to the 12 sub-projects within Skylines with flying people 3, and is conducted by a pair of artist and experts, scholars from history, archeology, sociology, etc. Knowledge exchange seminars will be held from March 2016 to December 2016 at different venues in Hanoi.


The first seminar will be the presentation and discussion between Yang Jing, journalist, researcher and cultural, art reporter from Hong Kong and Tuan Mami, participating artist of Skylines with flying people 3.



The seminar will be held in English and Vietnamese
Moderator : Nguyen Quoc Thanh



* Yang Jing – "Umbrella movement – Aestheticization of Protest"


In winter of 2014, The Umbrella Movement, a civil disobedience movement requesting both Beijing and Hong Kong governments to honor their promise of universal suffrage in Hong Kong took place. In response to government's heavy-handed police tactics, high officials' avoidance of dialogue with the students, and party-run Chinese media's condemnation of protest, angered citizens have camped on the streets for over three weeks. Overnight, these dense city intersections are turned into communicative spaces with tens of thousands of protesters peacefully and artistically uttering their demands and complaints.


The streets are showered by discursive and chorographical practices of creative civil disobedience: Paper-made outdoor shrines worshiping Chinese and Western deities to pray for protesters' safety, a Lennon Wall with hundreds of thousands of colorful post-it stickers to express individual's thoughts during the sit-in, installations made by wires and cloth mimicking Hong Kongers' poor living condition to mock the developer hegemony, road-signs directing people to "dark corner" (a reference to an incident in which a news camera captured policemen beating one protester in a dark spot near the protest site), open galleries everywhere showcasing paintings and photos of Hong Kong and its endearing people, and finally a wood-patch person holding a yellow umbrella.


What we saw on the streets of Hong Kong in the winter of 2014 was precisely the creative intervention combining art and social action. My research analyzes these artistic expressions in close-up shots, on the body and movement of the protesters and citizens in general, on the rhythm and composition of the physical spaces people occupy, and in the digital sphere where millions of messages and signs endlessly produced and reproduced – the aestheticization of protest and the bio-politics of anesthetization.


* Tuan Mami – "Volution – Evolution – Devolution"


Returning to his mother's homeland at Nam Ha, the artist realized the rapid transformation of the landscape due the mining. These concerns about the environmental, social and cultural changes as well as the role and position of human beings will be queried in new Tuan Mami's work for Skylines with flying people 3. the


--


Yang Jing received her BA in museum studies from Fudan University, Shanghai, and then obtained a Master degree in gender studies in Chinese University of Hong Kong. After graduation, she had worked on several researches on the intersection of media, performance and gender. She was also an editor at the Chinese University Press, managing books on arts, cultural studies and minority studies. As a journalist covering European news, especially that of art and culture, she is interested to investigate the globalized social movements where art and new media is intensively produced and disseminated as means of protest. Right now, she is a PhD candidate of the Graduate Programme for Transcultural Studies of Heidelberg University in Germany.


Tuan Mami graduated from Hanoi Fine Art University in 2006. He is the member and founder of Nha San Collective art space in 2013. Tuan Mami completed his artist-residencies at Tokyo Wonder Site – Japan, San Art – Vietnam, 934 Studio – China etc. He has experimented with paintings, installation, video, performance and participated at various international exhibition and art events include Skylines with flying people 2 in 2012 at Hanoi.


Website : www.tuanmami.com


For more informations about Skylines with flying people 3: https://www.facebook.com/SkylinesWithFlyingPeople3...