Nha San Collective - Workshop HÀ NỘI KINGS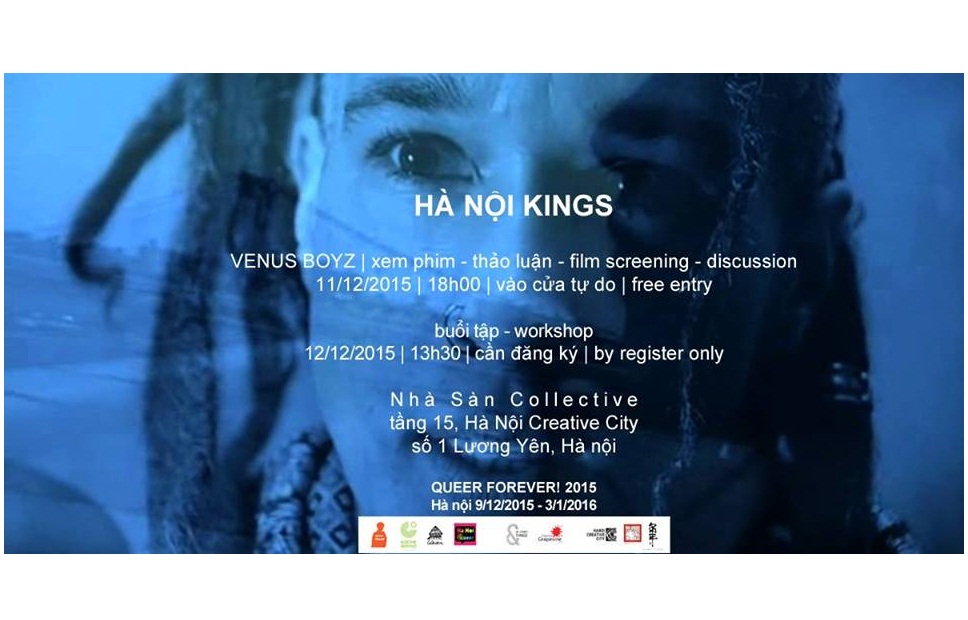 About
​
Nicole Martine Lewis and Queer Forever! are pleased to invite you to our workshop HÀ NỘI KINGS on 11-12 Dec. 2015
at Nhà Sàn Collective
15th floor, Hà nội Creative City
no 1, Lương Yên st., Hà nội


FRIDAY 11 DEC 2015 18h00
Film screening and discussion about the art of drag king in "Venus Boyz" - a documentary film about drag king performersModeration: Nicole Martine Lewis
ENG/VN


Synopsis
A film journey through a universe of female masculinity. Women become men - some for a night, others for their whole lives. Masculinity and transformation as performance, subversion and existential necessity. An intimate film about people who create intermediate sexual identities.
http://www.venusboyz.com/
English language with Vietnamese subtitles


SATURDAY 12 DEC 2015, 13h30
Practice of drag king with Sexy Galexy (aka Lexi Leigh - Australia) via skype
Moderation: Nicole Martine Lewis
by register only: Hanoi Kings <kingsofhanoi@gmail.com>
ENG/VN


'Drag king' is an English term describing women who cross dress as men on stage. And as the film shows, some people do it for their whole life. Women performing as men are a well-known phenomenon in Vietnamese culture, such as Quan Âm Thị Kính in poetry and chèo, and mediums in Mother Goddess religion. At this event we can also discuss and share our experiences, thoughts about the art of drag and its significance in understanding gender.


We would like to thank "Venus Boyz"'s producers, ONIX Films, for allowing us to use the film footage in this event.


HÀ NỘI KINGS is a project by Nicole Martine Lewis, and it is a part of Queer Forever! 2015 in Hà nội on 9/12/2015 - 3/1/2016.