Nha San Collective - Talk and screening: Queer-as-Queer-Can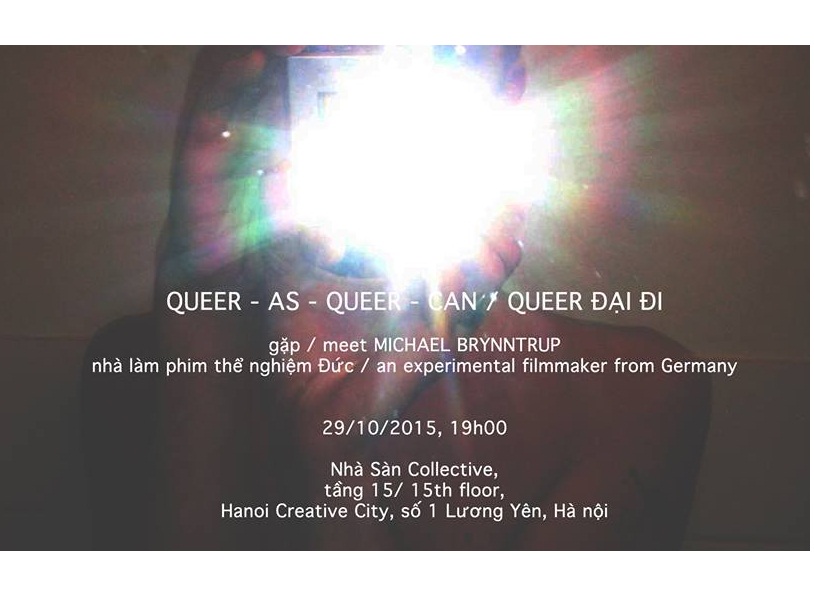 About
​
Dear friends,


we are excited to invite you to the meeting with, and a presentation of personal films by German experimental filmmaker Michael Brynntrup.


Thu, 29.10.2015, 7PM
Nhà Sàn Collective
15th floor Ha Noi Creative City Bld.
no 1 Luong Yen str. Hanoi


Michael Brynntrup has been a vital and very active part of the German underground over 30 years, having completed numerous experimental features and an incredibly strong body of short personal works. Working from a decidedly queer bent, Brynntrup often integrates a personal diaristic strategy, using humour and pathos to subvert and stimulate while creating films which are both intimate and visually stunning. (The Blinding Light!!, Vancouver - Alex MacKenzie).


Please kindly register for this event via email
queerforeverfestival@gmail.com, subject: register for event on 29/10


Đối tác truyền thông/ Communication partner: Hanoi Grapevine http://hanoigrapevine.com/
***


7 FilmVideo | 66 min | 1989-2010


NARZISS UND ECHO
NARCISSUS VÀ ECHO/ NARCISSUS AND ECHO
14:00 min | 1989


LIEBE, EIFERSUCHT UND RACHE
Tình yêu, ghen tuông và phục thù/ LOVE, JEALOUSY AND REVENGE
7 min | 1991


AIDE MÉMOIRE - ein schwules Gedächtnisprotokoll
AIDE MÉMOIRE - phim tài liệu gay để tưởng nhớ/ AIDE MÉMOIRE - Gay Document For Remembering
16:00 min | 1995


LOVERFILM - eine unkontrollierte Freisetzung von Information
Về những người tình - sự tản mác thông tin không kiềm chế / LOVERFILM - An Uncontrolled Dispersion Of Information
21:30 min | 1996


TV-X-PERM. (mein Schwulsein als Auftragsarbeit)
TV_X_perm. (Là người queer - tác phẩm được đặt hàng) / TV-X-perm. (Being Queer As A Commissioned Work)
3:20 min | 2002


FACE IT! (Cast Your Self™)
Đối mặt đi! (Tự tuyển chọn mình)
4:00 min | 2007


IMAGEFILM_101010
1:35 min | 2010


Cảm ơn Veronika Radulovic đã giúp thực hiện sự kiện này!
Special thanks to Veronika Radulovic for her help in making this event.