Nha San Collective - Screening video work by Nguyen Thi Thanh Mai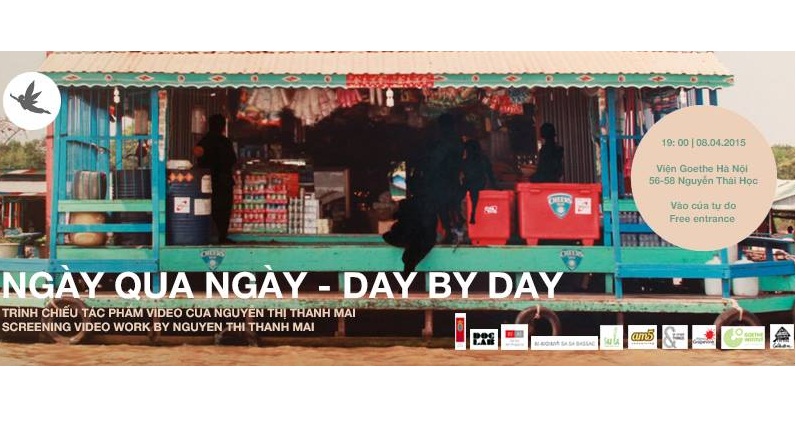 About
​Hosted by Nha San Collective and Goethe Goethe-Institut Hanoi, we cordially invite you to "Meet the Artist" Nguyen Thi Thanh Mai. Thanh Mai conducted several research trips throughout 2014 to Vietnamese fishing villages in Siem Reap, Pursat (Cambodia) and Long An (Vietnam). During her time here and there, she listened and recorded people who shared their intimate memories and spoke about their lives - lives that are ephemeral, uncertain and change "Day by Day". The result of her journeys is the exhibition "Day by Day", curated by Roger Nelson.
Day by Day was honored 2014 by the Cultural Development and Exchange Fund (CDEF) and in 2015 she was a finalist of the Sovereign Asian Art Prize.

Mai's work forms a part of the long-term programme titled "Skylines with Flying People 3". Nha San Collective will also give an introduction on this exciting project, which looks at Vietam's past and present histor(ies); and examines the nature and role of art in the context of contemporary Vietnam, as well as its interrelationship with other disciplines.

Nguyen Thi Thanh Mai's project has been generously supported by The Culture Development and Exchange Fund (CDEF), Doclab, Sa Sa Art Project, Sa Sa Bassac and Sao La. 

---------------------------

Nguyen Thi Thanh Mai

(born 1983 in Hanoi) is currently living in Hue. Mai's practice has been largely centering on issues of female body, sex, and constructed social values that affect women. She has gained increasing recognition both at home and abroad. She will be attending the artist in residency program at Künstlerhaus Bethanien, Berlin, until 2016.