Nha San Collective - Artist talk with Gabby Miller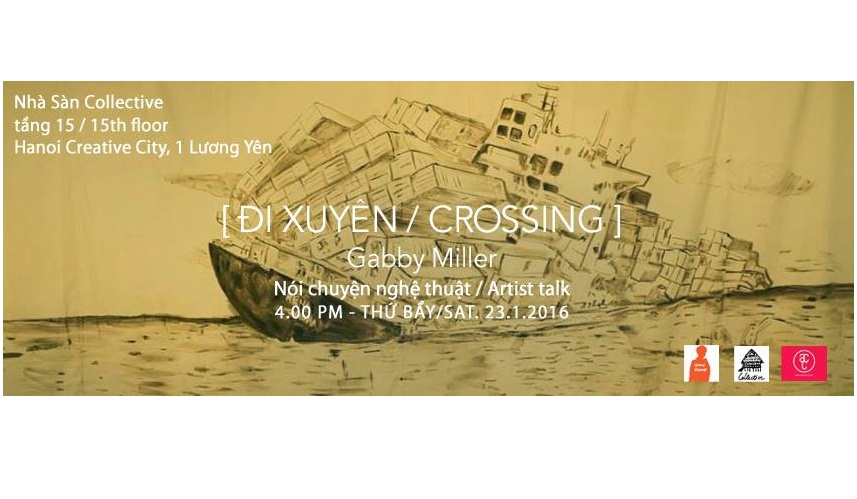 About
Queer Forever! and Nhà Sàn Collective are pleased to invite you to the artist talk with Gabby Miller

SATURDAY, January 23rd, 2016, 4PM
Nhà Sàn Collective
15th floor, Hanoi Creative City Blg.
no 1 Lương Yên, Hà nội

The artist talk will close her exhibition "ĐI XUYÊN // CROSSING" in Hanoi.

In August 2015 Gabby Miller crossed The Pacific Ocean on The CMA CGM Gemini, a 380 meter long ship capable of carrying 11,000 containers. She was the only passenger going from Oakland to Xiamen, China. The trip took 21 days.

They steered through The Great Circle across The Arctic, through The Bering Sea, sucked up heavy crude oil for the ship in Russia. As they curved down to warmer parallels, lights began to hover on the horizon at dusk.

Aboard the ship and in the months following in Vietnam, she has been developing a new body of work that explores the geopolitical history, and current movement of goods, people and power across ocean lines.This project investigates the violence and power in the logistics of trade. The cargo ship plays an integral role as the vessel for departure for both refugees, and for goods, both historically and at present. In 1967 the U.S. government contracted Sea-Land Services to begin service from The Port of Oakland to South Vietnam.It is argued that the supply demands for Vietnam War catalyzed the adoption of container shipping globally.

ĐI XUYÊN // CROSSING includes some new paintings in heavy crude oil from the ship's engine, photographs, video and sculptural work made during and after the crossing.

This exhibition includes a 30 minute video from 2010 with music composed by the late, great and beloved Nga Nhi.

Free entrance.

This project was made possible with the generous support of Asian Cultural Council (ACC).

Gabby Miller is an interdisciplinary artist based in San Francisco. As a visual artist, and organizer, her creative practice investigates our contemporary existence within and across multiple locations. She has lived and practiced out of Vietnam, the birthplace of her mother, and The Bay Area, where she was born and raised. Often using her own body in her works, she is inventing a visual language through experiments merging sculpture, photography, performance and video to describe how we transport our habit patterns, history and iconic signifiers of identity across cultural boundaries in an age of globalization. The content of her work integrates a personal commitment to awareness of current political situations and the queer and alternative communities in The Bay Area and Southeast Asia that she is a part of.