Nha San Collective - Artist talk: Joan Jonas & Thảo Nguyên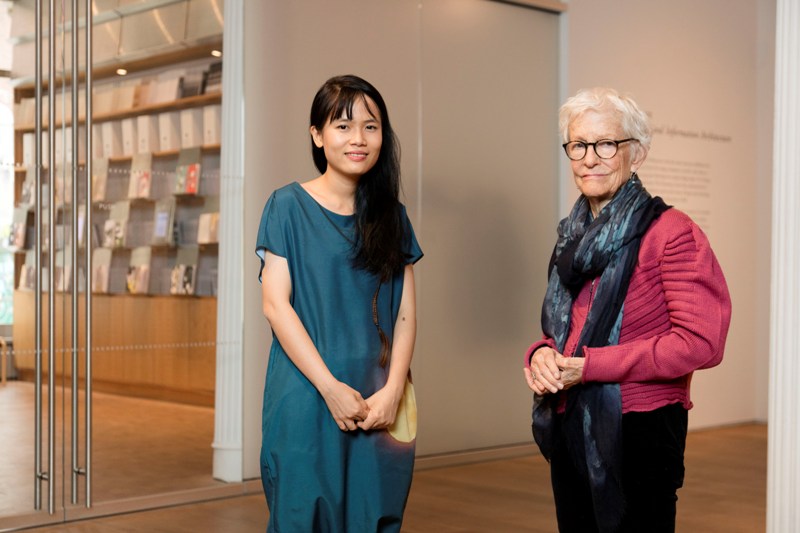 About
Nhà Sàn Collective warmly invites you to the artist talk "Revealing the essence of artistic mentorship" between artists Joan Jonas and Phan Thao Nguyen.

Time: 4:30 p.m. Sunday 19/02/2017
Location: Nhà Sàn Collective, 15th floor, Hanoi Creative City, 1 Lương Yên, Hà Nội

Internationally acclaimed, pioneering American performance and video artist Joan Jonas will share the stage with visual artist Phan Thao Nguyen, her protégée in the Rolex Mentor and Protégé Arts Initiative, at an artist talk and discussion held from 4.30pm, on 19 February at Nha San Collective.

As part of the talk, "Mentorship: Revealing an Artistic Practice", Jonas will relate her experiences in a career that spans over nearly a half century and reveal her views on society in light of contemporary art. Following the lecture, Phan Thao Nguyen, herself a multimedia artist from Ho Chi Minh City who uses painting, installation, video and performance to depict historical and contemporary concepts, will discuss her artistic interaction with the legendary Jonas over the past 10 months.

In particular, the event will highlight the creative dialogue between these two artists of different generations and cultures.

Phan Thao Nguyen
Protégée

Phan Thao Nguyen is a visual artist bases in Ho Chi Minh city, Vietnam. Through literature, philosophy and daily life, she observes ambiguous issues in social convention, history and tradition. in addition to her work as a multimedia artist, she has joined forces with artist Truong Cong Tung and curator Arlette Quynh-Anh Tran to form Art Labor. This collective explores cross-disciplinary practices and develops art projects that will benefit the local community. Phan Thao Nguyen is expanding her "theatrical fields", including what she calls performance gesture and moving images, under the guidance of pioneering visual artist Joan Jonas whom she considers the "ideal mentor".

Joan Jonas
Mentor

Described by London's Guardian newspaper as a "titan of the American avant garde", the internationally acclaimed, New York-based, performance and video artist Joan Jonas has made an indelible mark on the visual arts over nearly a half century – and continues to do so. Performance opened things up in the art world, says Jonas, whose pioneering works in New York's late-1960s downtown art scene drew inspiration from a variety of artistic genres and cultures. Trained in art history and sculpture at Mount Holyoke College in Massachusetts, the School of the Museum of Fine Arts, Boston, and at New York's Columbia University, where she received an MFA in Sculpture in 1965, she soon abandoned her career as a sculptor and turned to the relatively unexplored area of performance and video, incorporating multimedia and featuring a variety of themes from mythological narratives to mirrors. Beginning in the late 1960s, she performed the groundbreaking Mirror Pieces that uses mirrors as a visual device. This was followed by, among other works, Organic Honey's Visual Telepathy (1972), which explores women's shifting roles. In the 1990s, in pieces such as the My New Theater series, Jonas moved away from a dependence on her physical presence. A major retrospective of her work, Light Time Tales, was showcased in 2014-2015 at Milan's HangarBicocca. Her multimedia installation, They Come to Us Without a Word, evoking an ecologically challenged world, drew huge crowds to the US Pavilion at the 56th Venice Biennale in 2015. A solo exhibition at DHC/Art in Montreal ran from April to September 2016. Winner of numerous honours, including a 2009 Lifetime Achievement Award from the Solomon R. Guggenheim Museum, Jonas taught at the UCLA School of the Arts and Architecture and was a professor at Stuttgart's State Academy of Art and Design and for 17 years at MIT (Massachusetts Institute of Technology), where she is Professor Emerita in the MIT Program in Art, Culture and Technology.

The Rolex Mentor and Protégé Arts Initiative is a philanthropic programme that was created in 2002 to make a contribution to global culture. It seeks out gifted young artists from around the world and brings them together with artistic masters for a year of creative collaboration in a one-to-one mentoring relationship. In keeping with its tradition of supporting individual excellence, Rolex gives emerging artists in seven artistic disciplines ─ architecture, dance, film, literature, music, theatre and visual arts ─ time to learn create and grow. In the 15 years since it was launched, the mentoring programme has evolved into an enriching dialogue between artists of different generations, cultures and disciplines, helping ensure that the world's artistic heritage is passed on to the next generation.